Introduction to the University Anthem and re-orchestration
Orchestral version by Chan Hing-yan
Introduction to the University Anthem and re-orchestration
"The University Anthem was first performed at the Opening Ceremony of the University held on Monday, March 11, 1912, in front of the then newly completed Main Building. It was performed by the Choir of the St John's Cathedral, the Chorus of the Philharmonic Society, and the full Military Band of the 1st Battalion, King's Own Yorkshire Light Infantry. The music was composed by Denman Fuller and the Latin verses by Cecil Clementi. The anthem was used at formal University occasions until the 1930s, but after the war it was largely forgotten, preserved in the archives as an historical curiosity that could be seen but seldom heard. To celebrate the University's centenary, this 100-year-old anthem has been revived. The music has been reconstructed from the original parts, re-orchestrated and recorded, bringing an old tradition back to life for a new century. " ~ Professor Daniel KL Chua
Orchestration: Professor Chan Hing-yan
Producer: Professor Daniel KL Chua
Conductor: Yip Wing-sie

Choir Master: Ronnie Cheng
Performers: Hong Kong Sinfonietta
Hong Kong University Students' Union Choir
DBS DGS Senior Mixed Choir
Project Manager: Sharon Lu
Recording Engineer: Clement Pong
Recorded at the Hong Kong City Hall concert Hall, 18 May, 2011
Orchestral version by Professor Chan Hing-yan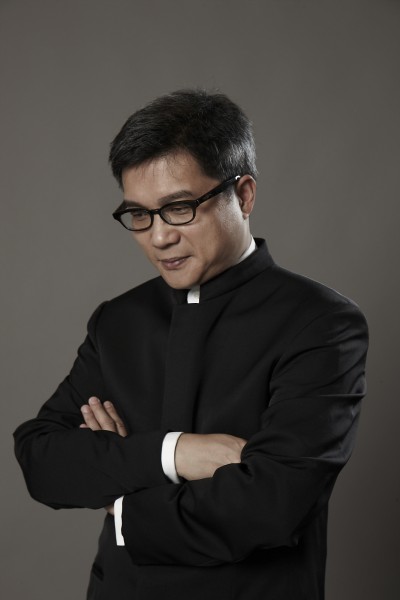 CHAN Hing-yan received his Doctor of Musical Arts degree from the University of Illinois at Champaign-Urbana, majoring in composition and minoring in ethnomusicology. His compositions, lauded for their subtle incorporation of Chinese elements, have been heard around the world at festivals and concerts. Recent works include Heart of Coral – a chamber opera in three acts, commissioned by the 41st Hong Kong Arts Festival (2013) and 'Twas the Thawing Wind – for sheng and orchestra, commissioned by the Hong Kong Sinfonietta for its North American tour (2012). His three collaborations with the City Contemporary Dance Company (The Conqueror, 2005; Warrior Lanling, 2007; Dao Extraordinaire, 2009) have won him much acclaim as well as a Hong Kong Dance Award in 2008, when he also received commendation for "Persons with Outstanding Contributions to the Development of Arts and Culture" in the Secretary for Home Affairs' Commendation Scheme of that year. In April 2014, he was conferred the Best Artist of the Year Award (Music) by the Hong Kong Arts Development Council.
William Gould Bennett Denman Fuller was the organist and Choirmaster of St John's Cathedral in 1905-1923. He composed the music and then conducted the University Anthem for the University's opening ceremony on 11 March 1912.
Sir Cecil Clementi is the author of the Latin verse and was the Chancellor of the University of Hong Kong in 1925-1947.
The Latin verse, with English and Chinese versions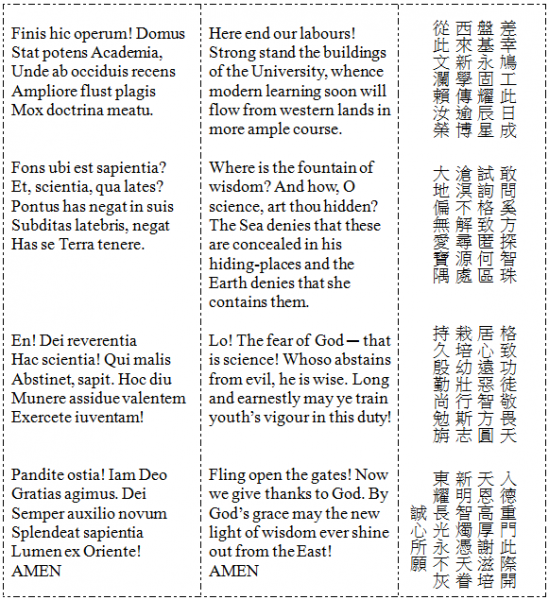 -Publications
Fuller, Denman. 2014. University Anthem. Hong Kong: The University of Hong Kong. Music 780 F965 u5  CD  a
Images, the score published in 1912, University Museum and Art Gallery, HKU
-Scholarly writings on the University Anthem
Liu Ching Chih. 1978. "The Verse and Music of the University Anthem: the three versions of the University Anthem" in Interflow, November.
_________. 1979. "The Verse and Music of the University Anthem: the music of the University Anthem" inInterflow, January.
Professor Chan Hing-yan
Professor Daniel KL Chua
Cultural Management Team, HKU
Technology Support Services, HKU Libraries