Main Library Level 3
Main Library
Level 3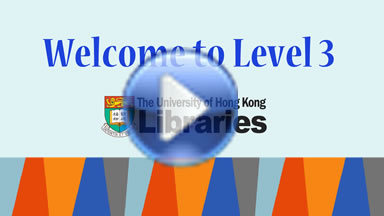 Located on the 3rd floor of the Main Library, Level 3 is a learning commons style facility providing a variety of spaces suitable for different learning styles including reflective self-study as well as collaborative study.  With a floor area of 3,100 square metres, Level 3 comprises 5 zones, namely:
Technology
Collaboration
Study
Breakout
Multi-purpose
The Information Counter at Level 3 provides face-to-face support in the use of the facilities and in searching the myriad information resources subscribed by the Libraries or available on the Internet.  Users can also seek assistance by phone, email or WhatsApp.
Opening Hours
(27 October 2014 - 30 May 2015)
Public Holidays
Technology & Multi-purpose zones
Monday to Friday 8:30 am - 11:00 pm*
Saturday 8:30 am - 7:00 pm*
Sunday 10:00 am - 7:00 pm*
*Collaboration zone will be closed 30 mins earlier.
Study zones - 22.5 hours access
Monday to Friday
8:30 am to 10:30 pm; 11:00 pm to 7:30 am (next day)
Saturday
8:30 am to 6:30 pm; 7:00 pm to 9:00 am (Sunday)
Sunday
10:00 am to 6:30 pm; 7:00 pm to 7:30 am (Monday*)
* 7:00 pm to 9:00 am (if the following day is a public holiday)
Telephone No.
(852) 2859-2203
E-mail
libis@hku.hk
Address
3/F Main Library
The University of Hong Kong
Pokulam, Hong Kong