Treasure Night 
Treasure Night is organised by the HKUL Reading Club with a view to make HKUL a good place for the exchange of ideas among people who love rare books. Details of the meeting:
Speakers: Kenneth Fung; Daniel Fung; Paul Kua
Date: 1 February 2007 (Thursday)
Time: 7:15 - 9:00 pm
Venue: Special Collections, 1/F Main Library, The University of Hong Kong
Language: English
Speaker: Paul Kua
The Old and New Testaments in Chinese, translated by Joannes Lassar and Joshua Marshman, issued in 5 volumes, Serampore, 1815-1822.
This is the earliest complete printed Chinese Bible, as it was finished in 1822, a year before the more well-known translation entitled Shen-tian Sheng-shu 神天聖書 by Robert Morrison and William Milne. The translation was done by Joannes Lassar, an Armenian who grew up in Macao and was fluent in Chinese, and Joshua Marshman, the English Baptist missionary who traditionally received the credit for the work. Besides being the first complete Chinese Bible, this book is also significant as it was printed in Serampore, India, "with metallic, moveable characters," another first in the history of the printing of Chinese Bibles. Finally, being the work of Baptists missionaries, it started a tradition of Baptist translation of the Bible into Chinese which was more or less independent of the translation efforts of all other Protestant missionaries in the field.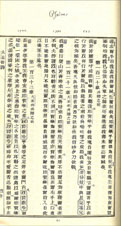 (click image to enlarge)
Speakers: Kenneth Fung; Daniel Fung
Theme: Old Maps - The Foot-prints of Human Civilization
Mr Kenneth Fung and Mr Daniel Fung will talk about European maps of China and the Philippines between 16th and 18th century. They will bring a few actual samples of their old maps and allow the audience to examine the actual old maps on display and view them in close proximity.
Speaker: Dr Anthony Ferguson
Book: The Wealth of Nations by Adam Smith. 1776 Edition.
Dr Ferguson will talk about The Wealth of Nations by Adam Smith.