Legends from the Swiss Alps 瑞士阿爾卑斯山的傳說
| | |
| --- | --- |
| Speakers : | Professor Andrea Riemenschnitter of the University of Zurich, Professor Leung Ping-kwan of the Hong Kong Lingnan University |
| Guest : | Yuen Che-hung |
| Date : | 10 June 2010 (Thursday) |
| Time : | 7:15 pm - 9:00 pm |
| Venue : | Special Collections, 1/F, Main Library, The University of Hong Kong |
| Language : | English & Cantonese, Include one 7-minute film screening The Cablecar |
About the Speakers and Guest
Professor Andrea Riemenschnitter
Andrea Riemenschnitter is Professor of Modern Chinese Language and Literature at the University of Zurich, Switzerland. Her research interests focus on regionalist, ethnographic and historical fiction, as well as theatre, travel literature, and film and media studies. Her publications include a monograph on Ming literary cosmographies: China zwischen Himmel und Erde: Literarische Kosmographie und nationale Krise im 17. Jahrhundert (1998), a co-authored translation of Gao Xingjian's dramatological writing, Gao Xingjian: Nächtliche Wanderung (2000), an edited volume on aesthetic transnationalism, Diasporic Histories. Archives of Chinese Transnationalism (with Deborah L. Madsen, Hong Kong University Press, 2009) as well as chapters and articles on various aspects of modern Chinese cultural production. She is currently working on an analysis of aesthetic re-enactments of myths and mythologies from the late Qing through the post-Maoist period.
Professor Leung Ping-kwan
Leung Ping-kwan is Chair Professor of Comparative Literature at Lingnan University in Hong Kong. He received his Ph.D. from the University of California at San Diego. His academic publications include East Asian Culture & Modern Literature in Chinese (Hong Kong 2006), Cultural Space and Literature (Hong Kong 1996), Hong Kong Culture (Hong Kong 1995), as well as many edited and co-edited volumes on modern poetry, Hong Kong culture, and Hong Kong cinema. His creative writings include City at the End of Time (Hong Kong, 1993), Islands and Continents (Hong Kong 2006), Travelling with a Bittermelon (Hong Kong 2002), New Fruits from Taiwan (Hong Kong 2002), Hong Kong in the Eyes of Yesi (Hong Kong 2005), East West Matters (Hong Kong 2000), Foodscape (Hong Kong 1997), among many others. He is the chief editor of the Journal of Modern Literature in Chinese.
Mr Yuen Che-hung
Yuen Che-hung, the veteran storyteller, founded "No Hurry Story Workshop" in 1994. Yuen visited hundreds of kindergartens, primary and secondary schools, telling stories and conducting creative writing programmes and workshops for teachers and parents.. In 2001, he extended his programmes to include the physically- and mentally- handicapped and the emotionally-disturbed. Since 2007, he has been one of the known storytellers in a Radio Hong Kong Channel 5 programme, "Bedside Stories".
About the book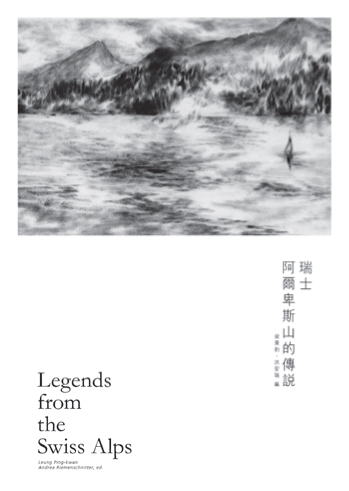 The book 'Legends from the Swiss Alps' was conceived during the study of the ghost world in modern Chinese films by Swiss students of Chinese at the University of Zurich. The programme is headed by Swiss professor Andrea Riemenschnitter of Modern Chinese Language and Literature at the University of Zurich with guest professor Leung Ping Kwan, Chair Professor of Comparative Literature at Hong Kong Lingnan University. A total of 75 Swiss alps legends are collected by Swiss students to form the trunk of the book, complemented with contemporary interpretation of black-and-white illustration works by young Swiss artist Julia Steiner, as well as contributing writings from a contemporary didactic film perspective by Natalie Bohler. The book is bilingual – English and Chinese – and was released in November 2009.