Hong Kong Movers and Stayers
| | |
| --- | --- |
| Speaker : | Professor Janet W. Salaff |
| Moderator : | Professor Lui Tai Lok 呂大樂教授 |
| Date : | 13 May 2010 (Thursday) |
| Time : | 7:15 pm - 9:00 pm |
| Venue : | Special Collections, 1/F, Main Library, The University of Hong Kong |
| Language : | English |
About the Speaker
Professor Janet W. Salaff
JANET W. SALAFF is Professor at emerita, the Department of Sociology, University of Toronto. She received her Ph.D. in 1972 from the University of California ( Berkeley). She is a visiting scholar, Centre of Asian studies , University of Hong Kong. She is on the international editorial board of a number of scholarly journals. Salaff has studied Chinese family formation and especially the Chinese family economy throughout her career She started studying Chinese families while perched in Hong Kong, which got her interested in Hong Kong itself, especially family life and position of women and men. Her best known book is WORKING DAUGHTERS OF HONG KONG, which applies the life study method to this previously overlooked population. This manuscript was published as a winner of the Arnold and Carolyn Rose American award to the American Sociological Association. She turned to international migration research in Hong Kong in 1992 in a project with SL Wong. The resulting manuscript, which is co-authored along with A. Greve, is titled, HONG KONG MOVERS AND STAYERS: NARRATIVES OF FAMILY MIGRATION, University of Illinois press, 2010. She is currently studying return migration to China.
About the book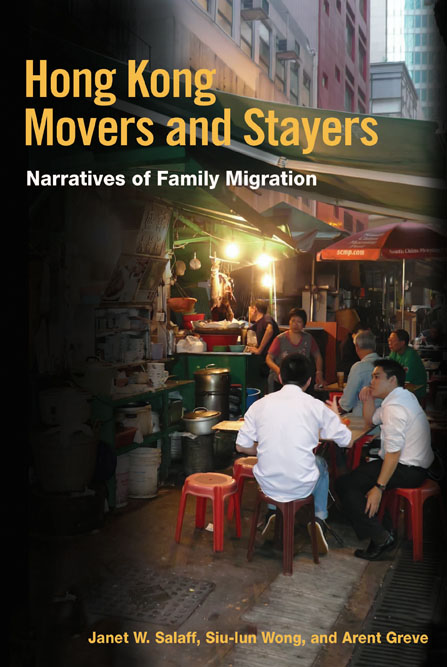 This multi-faceted study was begun in 1991, when migration was attributed primarily to political anxieties and the notion that Hong Kong residents were seeking a better life in the West. Defining migration as a process, not a single act, the book provides an antidote to ethnocentric and simplistic theories by uncovering migration stories. Melding survey analysis, personal biography, and sociology, the book provides a depth of understanding by comparing multiple families and gives voice to the interplay of diverse family roles, gender, and age in migration.