《繼往開來──香港廠商75年》
Seventy-five Years of Hong Kong Manufacturing – Past and Present
| | |
| --- | --- |
| Speaker : | Dr Lee Pui Tak 李培德博士 |
| Co-speaker : | Mr Yin Tak Shing 尹德勝先生(former president of the Chinese Manufacturer's Association of Hong Kong) |
| Date : | 6 May 2010 (Thursday) |
| Time : | 7:15 pm - 9:00 pm |
| Venue : | Special Collections, 1/F, Main Library, The University of Hong Kong |
| Language : | Cantonese (Simultaneous Interpretation to English) |
About the Speaker
Dr Lee Pui Tak 李培德博士
李培德,香港大學香港人文社會研究所(亞洲研究中心)專職研究員及名譽助理教授,香港亞洲研究學會副會長。1988年畢業於香港中文大學歷史系,同年赴日本東京大學留學,專研中國近代經濟史,分別於1991年和1995年取得文學碩士和文學博士學位。2004年獲Fulbright Hong Kong Scholar Award赴美國康乃爾大學進行有關上海銀行家歷史研究。2006年獲Japan Foundation獎助赴日本京都大學進行日本與香港、上海金融關係之研究。2007年獲日本豐田財團贊助,組織中國商業史論壇和中國商業史研究網絡。先後於1996、1998、2000年在香港籌辦第一、第二、和第三屆中國商業史研討會。2005-2006年間擔任《香港中國近代史學報》總編輯,2009年主編中國商業史研究叢書,由香港大學出版社出版。
Dr Lee Pui-tak was born and educated in Hong Kong. He received his bachelor degree of history from the Chinese University of Hong Kong in 1988; a master and doctoral degree of East Asian history from the University of Tokyo in 1991 and 1995 respectively. Currently, he is Research Officer and Honorary Assistant Professor in Hong Kong Institute for the Humanities and Social Sciences (inc. Centre of Asian Studies), University of Hong Kong. In 2004, he received the Fulbright Hong Kong Scholar Award to conduct a visiting fellowship at Cornell University. Two years later, he received the Japan Foundation Fellowship to visit the Kyoto University. In 1996, 1998 and 2000 respectively, Dr. Lee convened the First, Second and Third Chinese Business History Conference in Hong Kong. In 2007, he received a grant from The Toyota Foundation to organize a research network of Chinese Business History in Asia and convene the Chinese Business History Forums. In 2005-2006, he was the chief editor of the Hong Kong Journal of Modern Chinese History. From 2009, he edited the book series on Chinese Business History for the Hong Kong University Press.
Mr Paul T.S. Yin 尹德勝先生
尹德勝先生(SBS,BBS,太平紳士),大中實業有限公司董事長兼行政總裁,香港中華廠商聯合會卸任會長(現任該會永遠名譽會長),香港品牌發展局創局主席、香港機械金屬業聯合總會名譽會長。尹先生的家族企業原本在經營稀有金屬產品,今天已漸漸擴展到貿易、地產和其他製造行業。多年來,尹先生為香港社會各界擔任多項公職,包括香港特區政府中央政策組、香港貿易發展局、香港勞工顧問委員會、僱員補償保險徵款管理局、僱員補償保險剩餘制度管理局,以及創新科技署委員會等。尹先生早年在香港肆業,於美國俄亥俄州立大學及斯里求斯大學分別取得工程學和市場學學位。尹先生熱衷攝影及喜愛音樂,善於欣賞生活帶來的美。
Mr Paul T.S. Yin is the Chairman and CEO of Dah Chung Industrial Company Ltd, a highly successful privately owned family business for over thirty five years specializing initially in the production of precision metal products. Today the business has ventured into other areas of manufacturing as well as trading and property investment. Paul is Immediate Past President (now Honorary Permanent President) of The Chinese Manufacturers Association of Hong Kong. He is additionally Founding Chairman of Hong Kong Brand Development Council and Honorable Chairman of Hong Kong Fastener Association and Federation of Hong Kong Machinery and Metal Industries. He has also served in the Hong Kong Special Administrative Region Government's Central Policy Unit; the Hong Kong Trade Development Council; Hong Kong Labour Advisory Board; Employees' Compensation Insurance Levies Management Board; Employees' Compensation Insurance Residual Scheme; and the Steering Committee on Innovation and Technology, to name just a few. Receiving his primary and secondary education in Hong Kong. Paul is a graduate of the Ohio State University of USA and he holds a post graduate qualification in marketing awarded by the Syracuse University. In addition to being a zealous photographer, he is an ardent art lover, listening to music being one of his greatest joys.
About the book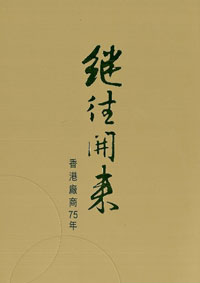 In 2007, the CMA commissioned the Centre of Asian Studies of the University of Hong Kong to carry out an in-depth study on the history of the CMA and the development of Hong Kong industry. It took three years to complete the study, which involved collation of historical documents and items of the CMA as well as oral interviews of veteran industrialists. Based on the valuable materials collected from the study, the book entitled "Seventy-five Years of Hong Kong Manufacturing – Past and Present" is written in an impartial, analytical and easy-to-read way to give a detailed account of the industrial development in Hong Kong over the past 70 more years.