文學與神明──從詩歌到哲學的提升
Literature and Gods: Elevation from Poetry to Philosophy
Theme book:
《文學與神明──饒宗頤訪談錄》
Literature and Gods: Interview with Professor Jao Tsung-I
Speaker:
施議對先生(澳門大學社會科學及人文學院中文系教授)
Professor Sze Yee-Tui, Department of Chinese, University of Macau
Date :
30 September 2010 (Thursday)
Time :
7:15 pm - 9:00 pm
Venue :
Special Collections, 1/F, Main Library, The University of Hong Kong
Language :
Putonghua
About the Talk
《文學與神明──饒宗頤訪談錄》編纂者施議對教授將分享他整個成書過程的體會和經驗,並將談及饒公學藝大世界的其中奧秘、學術研究領域的開拓與提升等問題。希望以他的學習心得,與讀者諸君共分享。
Professor Sze will share his experience of writing the book and what he learns from Prof. Yao with us. He will also talk about the secret of Jao's academic world, the exploration and elevation of his academic research areas and so on.
About the Speaker
施議對先生
施議對,台灣彰化人,出生於福建泉州。中國社會科學院文學博士。原中國社會科學院文學研究所副研究員。中國社會科學院比較文學研究中心學術顧問,河南大學兼職教授。現為澳門大學社會科學及人文學院中文系教授。他的研究範圍包括詩、詞與中國文學。著有《詞與音樂關係研究》、《施議對詞學論集》以及《當代詞綜》等。
Professor Sze was a pre-associate researcher(Associate Professor)in Literature Research Institute of Chinese Academy of Social Sciences. He is currently a Professor of the Faculty of Social Sciences & Humanities (FSH) in University of Macau. His research areas include poetry, lyrical poetry and ancient Chinese literature. His publications include On the Relationship between Ci Poetry and Music, Sze Yee Tui's Collected Papers of Ci Poetry and Collection of Contempory Ci Poetry.
About the Book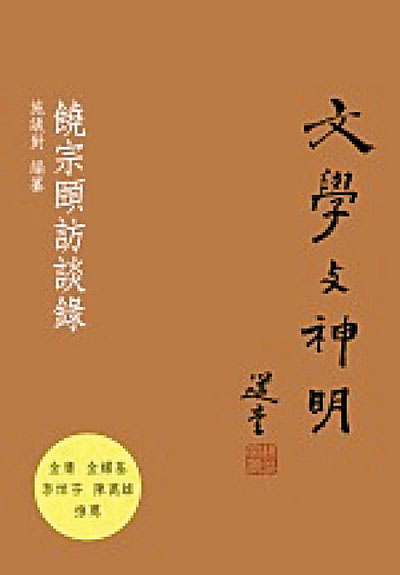 本書以訪談形式,深入淺出,全面、系統地對饒宗頤學藝大世界作一概括描述。從橫的角度看,既展示饒公在史學、文學、經學乃至甲骨學、秦簡學、敦煌學諸多領域的獨特見解及建樹,又呈現饒公於詩、詞、文、賦及書法、繪畫、琴藝諸多方面的風貌及成就;從縱的角度看,則於宇宙觀、神學觀、藝術觀以及對世界萬物的認識論,作深入的探索及討論,頗多新創之見。 為將饒公之學盡量加以淺析,力求使讀者容易理解,本書編纂,歷十度寒暑,又批閱四載,始畢其功。內容根據錄影、錄音及已刊文集,兩相校核,並依編纂者個人心得,編排、整理而成。是閱讀大師、走近大師的一部入門讀本。
This book uses the dialogues between Jao Tsung-I and the author to present Jao's profound theories of arts and academic research in a simple, systematically and comprehensive way.