《人民不會忘記》 二十周年再版 People Will Not Forget - reprint after 20 years
Speakers : Ms Ida Chan Yun Chi (陳潤芝), Ms Lucy Chan Wai Yee (陳慧兒), Ms Mak Yin Ting (麥燕庭) Moderator: Mr Chris Yeung (楊健興)
Date : 2 June 2009 (Tuesday)
Time : 7:00 pm - 8:30 pm
Venue : Special Collections, 1/F, Main Library, The University of Hong Kong
Language : Cantonese & Putonghua (Simultaneous Interpretation to English)
About the Speakers and Moderator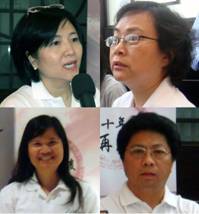 陳潤芝 陳慧兒 麥燕庭 楊健興
四位香港資深傳媒人均於 89 年在北京採訪民運
• 陳潤芝─「六四二 0 」作者,現任有線電視直播新聞台台長
• 陳慧兒 ─傳媒顧問,曾任陳方安生及梁家傑競選顧問
• 麥燕庭 ─前任香港記者協會主席
• 楊健興 ─南華早報撰述編輯及專欄作家
Four Veteran journalists who covered the June 4 Incident in 1989
• Ms Ida Chan Yun Chi: author of "June 4 th : 20", Channel Manager, Live News Channel, Cable TV
• Ms Lucy Chan Wai Yee: Media Consultant, formerly Campaign Consultant for Mrs Anson Chan and the Hon Alan Leong
• Ms Mak Yin Ting: formerly Chairman of the Hong Kong Journalists' Association
• Mr Chris Yeung, Editor-at-Large, South China Morning Post
About the Book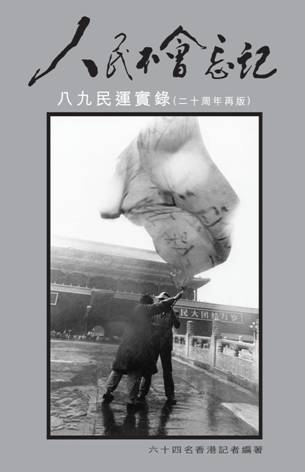 《人民不會忘記》 二十周年再版
20 年前 64 名香港記者在北京的
第一手現場報道。
全書 400 多頁逾 40 萬字,為六四事件
提供全面的紀錄和分析。
20 年前, 來 自不同機構、媒介的 64 名 曾採訪北京民運的香港記者,為了記載這件歷史大事, 迅速集合起來,將大家所瞭解的北京民運始末,綜合報道,組成一幅縱橫交錯的京城事變圖。
為了梳理出較為全面的場景,香港記者不惜打破工作機構的界限、放下搶新聞的惡性競爭,全心全力獻出一己的所見所聞;就此,一本香港新聞界前所未有緊密合作的新聞紀事書籍:《人民不會忘記》,於 1989 年 7 月底面世。 本書出版五萬本後,瞬即售罄。
20 年過了,今天,為了讓年輕一代認識 「八九民運」及「六四事件」始末,填補這段歷史空白 ,《人民不會忘記》編輯委員會決定藉二十周年的機會,再版 發行 此書,並 存於網上供人下載 ,俾得廣為流傳。
銷售收入會一如既往,撥入香港記者協會下屬的「人民不會忘記基金」,用作促進及推動中國和香港新聞自由及出版自由之用。
People Will Not Forget
Written and compiled by a group of 64 Hong Kong reporters who have covered the pro-democratic movement in China in 1989, the book People Will Not Forget gives a first-hand account from various perspectives of the movement that ended with the military crackdown at and around Tiananmen Square on June 4, 1989.
It was first published at the end of July 1989, less than two months after the crackdown. Though working for different media organizations in Hong Kong then, 64 journalists held out the same hope of telling the truth, setting the record.
More than 50,000 copies have been sold after it went on sale. With stock running out, no more copies of the book were available in bookstores in recent years.
The Editorial Committee of the book takes note of the view that most young people know little about the pro-democracy movement in 1989. By making new copies available and putting the book online, the Editorial Committee hope that students and society at large will be able to view from a journalist perspective of the events 20 years ago.
Proceeds of the book, as in the past, will go to the People Will Not Forget Fund which is aimed at promoting press and publication freedom in China and Hong Kong . The Fund is managed by the Hong Kong Journalists Association.
For more details please call (852)6129 9518 or check out www.hkja.org.hk