The THE FIRST 10 YARDS - The 5 Dynamics of Entrepreneurship and How They Made a Difference at DHL and Other Successful Startups
Speakers : Mr Po Chung 鍾普洋先生 and Dr Saimond Ip 葉松茂博士 (CEO of OnePort Limited)
Date : 25 November 2009 (Wednesday)
Time : 7:15 pm - 9:00 pm
Venue : Special Collections, 1/F, Main Library, The University of Hong Kong
Language : English
About the Speakers
Mr Po Chung
Chung Po-yang (Alias Po Chung) was born in Macao in 1943. In 1972 he co-founded DHL International Limited, together with DHL Airways Inc. of California which owns and operates the U.S. territories, these two companies operate the DHL Worldwide Network. DHL is the world\xE2\x80\x99s leading express and logistics company offering customers innovative and customised solutions from a single source. With global expertise in solutions, express, air and ocean freight and overland transport DHL combines worldwide coverage with an in depth understanding of local markets. DHL's harmonised international network links more than 220 countries and territories worldwide.
Dr Saimond Ip
Dr Saimond Ip, the Chief Executive Officer of OnePort Limited, received his PhD in Management Information Systems from Cambridge University, UK. He spent six years with the leading management consulting firm McKinsey & Co, advising multinational and local logistics and technology companies on strategic and operational issues. Saimond was the chairman of an ecommerce company that was listed on the Stock Exchange of Hong Kong. He founded three other technology companies, including a graphics software developer and a mobile location technology vendor. He was also the Executive Director of Hong Kong Pearl River Delta Foundation.
About the Book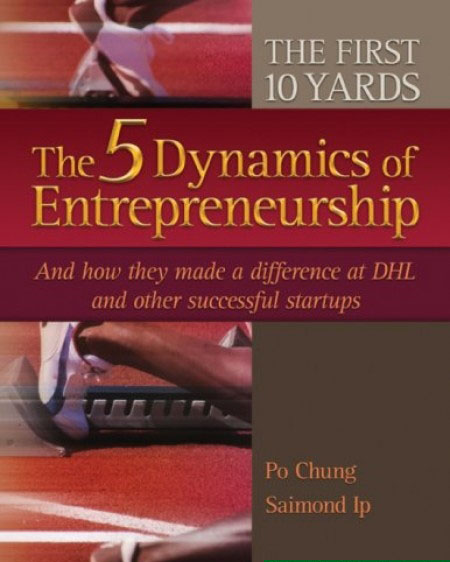 The THE FIRST 10 YARDS – The 5 Dynamics of Entrepreneurship and How They Made a Difference at DHL and Other Successful Startups
For entrepreneurs to really succeed in the long run in their business ventures, they have to deal with certain fundamentals of entrepreneurship. The Five Dynamics of Entrepreneurship, developed by Po Chung with Saimond Ip, describes the minimum qualities that an entrepreneur must have and tap into in order to build a company that inspires. Po should know; he helped build DHL, the world's "most global of global companies." This book, written by two practicing entrepreneurs, taps into the wealth of experience, the stories and the cases, from Asia and the West. More importantly, the authors accomplish what few books out there have, which is to really explore how to survive the "first ten yards" of a new company and thrive. From the dreamer who wants to launch a business to an MBA student or an executive, this book is for all of them. It addresses the critical factors that determine the success or failure of any new business venture.