The Future of Hong Kong as an International Financial Centre, Post-Crisis
Theme Book: From Asian to Global Financial Crisis:an Asian Regulator's View of Unfettered Finance in the 1990s and 2000s
Speaker : Mr Andrew Len Tao Sheng 沈聯濤先生
Moderator : Professor Richard Yue Chim Wong 王于漸教授
Date : 3 November 2009 (Tuesday)
Time : 6:00 pm - 7:30 pm
Venue : 2/F, Atrium, Main Library, The University of Hong Kong
Language : English
About the Speaker
Mr Andrew Len Tao Sheng
Andrew Sheng, a Chartered Accountant by training, is currently the Chief Adviser to the China Banking Regulatory Commission and a Board Member of the Qatar Financial Centre Regulatory Authority and Sime Darby Berhad, Malaysia. He is also Adjunct Professor at the Graduate School of Economics and Management, Tsinghua University, Beijing and the University of Malaya, Kuala Lumpur. In addition, he is a member of the Advisory Council of the Iskandar Regional Development Authority, Malaysia, the International Advisory Panel of the Labuan Offshore Financial Services Authority, Malaysia (LOFSA), the Governing Council of the International Centre for Education in Islamic Finance, Malaysia (INCEIF) and the Advisory Council of the National Institute of Securities Market, India (NISM).
Andrew was Chairman of the Securities and Futures Commission of Hong Kong from 1 October 1998 to 30 September 2005. Between October 1993 and September 1998, he was the Deputy Chief Executive responsible for the Reserves Management and External Affairs Departments at the Hong Kong Monetary Authority. Between 1989 and 1993, he was Senior Manager, Financial Sector Development Department at the World Bank. From 1976 to 1989, he held various positions with Bank Negara Malaysia, including Chief Economist and Assistant Governor in charge of Bank and Insurance Regulations.
Andrew chaired the Financial Stability Forum's Task Force on Implementation of Standards in 1999. From October 2003 to September 2005, he chaired the Technical Committee of the International Organisation of Securities Commissions (IOSCO). He currently chairs the annual OECD/ADBI Roundtable on Capital Market Reform in Asia.
Andrew has an honorary doctorate from the University of Bristol and was awarded the title of "Datuk Seri Panglima" by the Yang di-Pertua Negeri Sabah in September 2005.
About Andrew's most recent book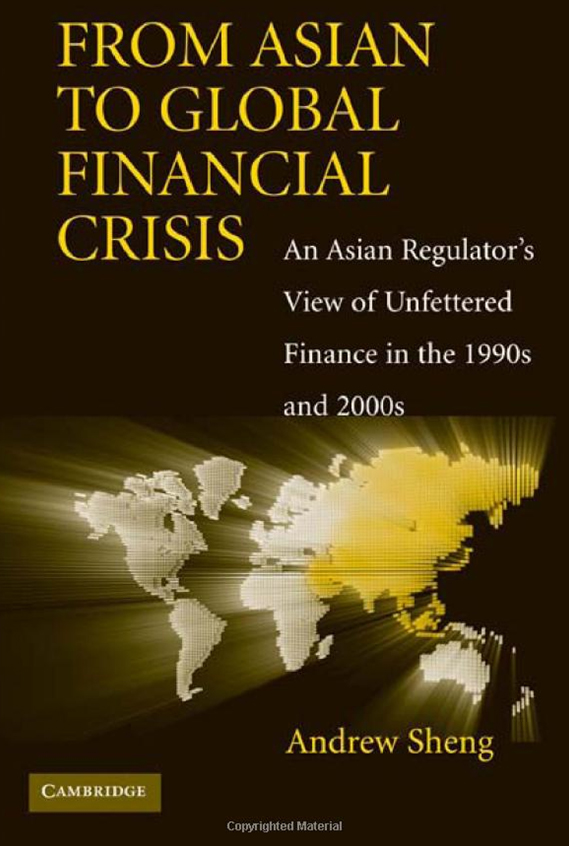 From Asian to Global Financial Crisis
An Asian Regulator\xE2\x80\x99s View of Unfettered Finance in the 1990s and 2000s
This is a unique insider account of the new world of unfettered finance. The author, an Asian regulator, examines how old mindsets, market fundamentalism, loose monetary policy, carry trade, lax supervision, greed, cronyism, and financial engineering caused both the Asian crisis of the late 1990s and the global crisis of 2008–2009. This book shows how the Japanese zero interest rate policy to fight deflation helped create the carry trade that generated bubbles in Asia whose effects brought Asian economies down. The study's main purpose is to demonstrate that global finance is so interlinked and interactive that our current tools and institutional structure to deal with critical episodes are completely outdated. The book explains how current financial policies and regulation failed to deal with a global bubble and makes recommendations on what must change.