A Talk by Dr Chiang Chen (蔣震博士) : On Reading
Speaker: Dr Chiang Chen (蔣震博士)
Moderator: Professor S.L. Wong (黃紹倫教授)
Date: 4 October 2007 (Thursday)
Time: 7:15 - 9:00 pm
Venue: Special Collections, 1/F, Main Library, The University of Hong Kong
Language: Putonghua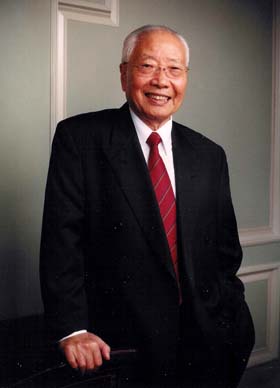 蔣震博士談閱讀
香港大學圖書館將於10月4日晚上7時15分舉行城西書話講座。主講嘉賓蔣震博士,將會與大家分享他的閱讀心得。
蔣震博士是香港震雄集團和震雄工業慈善基金的創辦人與主席。蔣博士生於山東省,1949年來港。他憑著辛勤工作和對製造業的熱誠,成為製造業的翹楚,在中國工業界廣受敬仰。目前,震雄集團已是全球最大的注塑機生產商之一,多元化業務遍佈世界各地。
蔣震博士堅信,先進的製造科技能促進中國的現代化,並提高中國人民的生活水平。為了幫助達成這個目標,蔣博士慷慨捐出名下全數震雄集團股份,創立蔣震工業慈善基金。他積極參與社會事務,曾經榮獲香港特區政府頒授的『大紫荊勳章』,以及英女王頒授的OBE勳銜等殊榮。
A Talk by Dr Chiang Chen: On Reading
The University of Hong Kong Libraries Reading Club is proud to present a talk by Dr Chiang Chen on Thursday, 4 October 2007, 7:15pm. He will share his thoughts and experience on reading with audience.
Dr The Hon Chiang Chen (GBM, OBE) is the Chairman and Founder of Chen Hsong Group and Chiang Chen Industrial Charity Foundation. Dr Chiang came to Hong Kong from his hometown in Shandong Province, China in 1949. His hard work and devotion to the manufacturing industry made him a prominent leader in the industry. He has earned admiration and is deeply respected as a role model for industrialists in China. Today, the Chen Hsong Group is one of the leading manufacturers of plastic injection moulding machines in the world and operates diversified business globally.
Dr Chiang firmly believes that advanced manufacturing technologies will bring about the modernisation of China and raise the living standard of all Chinese people. To help achieve this goal, Dr Chiang donated all his shares of the Chen Hsong Group to establish the Chiang Chen Industrial Charity Foundation.