Meeting the Author Night
Love & revolution : a novel about Song Qingling and Sun Yat-sen / Ping Lu ; translated by Nancy Du.
Speaker: Lu Ping
Moderator: Perry Lam
Date: 13 September 2007 (Thursday)
Time: 7:15 - 9:00 pm
Venue: Special Collections, 1/F, Main Library, The University of Hong Kong
Language: English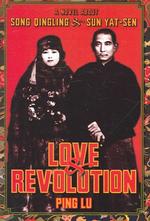 Love & revolution : a novel about Song Qingling and Sun Yat-sen
"In this novel, one of Taiwan's most celebrated authors reimagines the lives of a legendary couple: Sun Yat-sen, known as the "Father of the Chinese Revolution," and his wife, Song Qingling." "Born in 1866, Sun Yat-sen grew up an admirer of the rebels who tried to overthrow the ruling Manchu dynasty. He dreamed of strengthening China from within, but after a failed attempt at leading an insurrection in 1895, Sun was exiled to Japan. Only in 1916, after the dynasty fell and the new Chinese Republic was established, did he return to his country and assume the role of provisional president." "While in Japan, Sun met and married the beautiful Song Qingling. Twenty-six years her husband's junior, Song came from a wealthy, influential Chinese family (her sister married Chiang Kai-shek) and had received a college education in Macon, Georgia. Their tumultuous and politically charged relationship fuels this novel. Weaving together three distinct voices - Sun's, Song's, and a young woman rumored to be the daughter of Song's illicit lover - Ping Lu's narrative experiments with invented memories and historical fact to explore the couple's many failings and desires. Touching on Sun Yat-sen's tormented political life and Song Qingling's rumored affairs and isolation after her husband's death, the novel follows the story all the way to 1981, recounting political upheavals Sun himself could never have imagined."--BOOK JACKET.