Ten Eternal Questions / Zoe Sallis
Speaker: The Hon Alan Leong
Date: 10 May 2007 (Thursday)
Time: 7:15 - 9:00 pm
Venue: Special Collections, 1/F, Main Library, The University of Hong Kong
Language: English and Cantonese
About the Book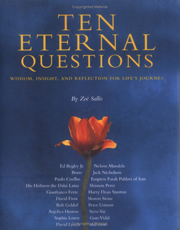 Ten Eternal Questions by Zoe Sallis
From the Publisher
Ten Eternal Questions asks leading political, artistic, and religious figures the timeless spiritual questions. "What is your concept of God?" "Do you think this life is all there is?" are just two of the ten questions author Zo Sallis puts to such diverse figures as Nelson Mandela and U2's Bono, Shimon Peres and Jack Nicholson, Paulo Coelho and the Dalai Lama. Chapters are organized by question with extracts drawn from Sallis's interviews with almost 40 personalities, among them Bob Geldof, Gore Vidal, Prince Mangosuthu Buthelezi, Gianfranco Ferre, Farah Pahlavi (the exiled Empress of Iran), Anjelica Huston, as well as other artists, scientists, and religious figures. In these days of increasing commercialism and religious polarization, this absorbing book speaks to an impulse for a stronger spiritual dimension in our lives and its range of answers spontaneous, surprising, and insightful; provocative, considered, and personally revealing offers readers much to ponder and reflect upon in their own quest to understand life's mysteries.
About the Speaker
Alan Leong Kah Kit, SC (梁家傑) (born February 22, 1958) is a member of the Legislative Council of Hong Kong, representing the Kowloon East geographical constituency and the vice-chairperson of the Independent Police Complaints Council.
Leong attended The University of Hong Kong (LLB) and the University of Cambridge (LLM). He was chairman of Hong Kong Bar Association from 2001 to 2003.
Sparked by the legislation of the Basic Law Article 23, Leong founded the Article 23 Concern Group in 2003 which later developed into the Article 45 Concern Group and the Civic Party. As chairperson of Hong Kong Bar Association, he mobilized many barristers to participate in the July 1 protests. He won a seat in the Legislative Council in the election.
He was nominated by the Civic Party as its party candidate for the Chief Executive election in 2007. He was also supported by the pan-democratic group, including the Democratic Party. Leong later secured 132 nominations and became the first pro-democrat candidate to successfully join the chief executive election. In the end Leong lost to Donald Tsang in the CE election on March 25, 2007 with 123 votes.
Leong has been dubbed Pocket Square Leong (袋巾梁), a joking reference to Bow-Tie Tsang.
(Source from Wikipedia)