The Possible 30 stories = 無窮的可能 : 扶貧路上30個故事.
Speakers: Chong Chan Yau; Mok Chiu Yu
Readings by: Amy Cheung Schwarting; Madeleine Marie Slavick
Date: 22 March (Thursday)
Time: 7:15 - 9:00 pm
Venue: Special Collections, 1/F, Main Library, The University of Hong Kong
Language: English
About the Book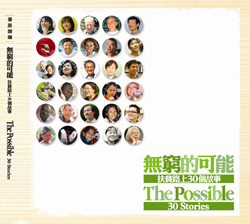 Description of Oxfam Book: "The Possible – 30 Stories" (Bilingual Version )
A girl in Zambia who defies her mother and goes to school, Dalits in India who win an international prize, migrant workers in Cambodia and Hong Kong who become labour activists...
Over the past 30 years, Oxfam Hong Kong has worked with some of the world's poorest people, people who work so hard to make changes in their lives. This book shows how well they've done.
About the Speakers
Mr Chong Chan-yau, MBE, MPhil (London) 1986, MSc (London) 1985, BA 1981, had worked as EO in HKU, Lecturer in Hong Kong Baptist University, and Managing Director of Internet Technology (H.K.) Ltd. In addition, Chan-yau joined the Civil Service to work for the well-being of the Hong Kong people in 1991. He worked in Education and Manpower Branch and Home Affairs Branch, responsible for drafting policy papers on areas such as gambling, higher education and labour legislations review. It was in 1993 that Chan-yau started his career in an independent development and relief agency, Oxfam Hong Kong. He was the Executive Director before he left Oxfam. He is now the Director of Student Development in HKU. His work includes "婦女的經濟參與情況與貧窮".
Mok Chiu-yu is the founding member of Asian People's Theatre Festival Society and was the Executive Secretary of the Arts with the Disabled Association Hong Kong from 1995 to August 2004. He has been involved in many cross-cultural productions including The Big Wind, Yours Most Obediently, The Bursting of the Asian Economic Bubbles, etc. His latest adventures included the production of Maybe Long Hair, Maybe Che Guevara (January 2004) and the running of the SARS International Inc. Festival (November 2003). He calls himself a people's theatre worker, and a community cultural worker.