Meeting the Author Night
The Great Difference: Hong Kong's New Territories and Its People 1898–2004 by James Hayes
Speaker: Dr James Hayes
Moderator: John Carroll
Date: 7 November 2007 (Wednesday)
Time: 7:15 - 9:00 pm
Venue: Special Collections, 1/F, Main Library, The University of Hong Kong
Language: English
About the Book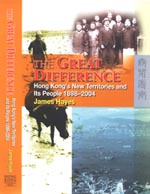 The Great Difference: Hong Kong's New Territories and Its People 1898–2004
James Stewart Lockhart called it "the great difference". Returned from an inspection tour of the newly leased extension to Hong Kong territory in August 1898, Lockhart, a senior Hong Kong colonial official, had used this phrase to describe the gulf between the New Territories and its people and the existing British colony of Hong Kong and its inhabitants. In this volume, James Hayes argues that this "the great difference" led the colonial government to administer the New Territories and its people differently from the old urban area from the outset, resulting in repercussions that affect present-day Hong Kong. The study covers the whole period of the Lease, with all its crowded events and dramatic changes, as they affected the native inhabitants and their relationship with the government and, over time, the many times larger new urban population.
"This is a well researched and highly authoritative book on Hong Kong's New Territories. It will be a reference for years to come." – Steve Tsang, Louis Cha Fellow and University Reader in Politics, St Antony's College, Oxford, author of A Modern History of Hong Kong (Hong Kong University Press 2004)
About the Author
James Hayes (PhD Lond; HonDLitt, HK) is a scholar of the Hong Kong region and its people. He worked in the New Territories for almost half his thirty-two years of government service, and was Regional Secretary in charge of district administration there in 1985–87. His publications include Friends and Teachers: Hong Kong and Its People 1953-87 (Hong Kong University Press, 1996).