Meeting the Author Night
The Search for a Vanishing Beijing: A Guide to China's Capital Through the Ages/ Michael Aldrich
Speaker: Michael Aldrich
Moderator: Jason Wordie
Date: 1 March (Thursday)
Time: 7:15 - 9:00 pm
Venue: Special Collections, 1/F, Main Library, The University of Hong Kong
Language: English
About the Book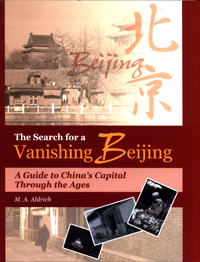 The Search for a Vanishing Beijing: A Guide to China's Capital Through the Ages/ Michael Aldrich
'An indefatigable explorer and raconteur, Aldrich has peeked into and poked around every nook and cranny of contemporary Beijing to reveal the city's rich and fascinating past. His book is a treasure box of curios lovingly recovered from a world now out of reach. It is an indispensable companion for all thoughtful visitors to China's capital. A brilliant achievement.' - Dr. Michael J. Moser, author of Foreigners Within the Gates: The Legations at Peking
'This book is a witty and irreverent look at the remaining historical sites of Old Peking. It explains what has been destroyed so one can understand what remains of the city's imperial architecture and layout. Whether you are reading it on the street in Beijing or far away on your sofa, this book guides you through the various neighborhoods, identifying important as well as mundane historical remnants. It provides historical background as well as interesting insights and amusing anecdotes on the cultural interactions and misunderstandings between foreigners and Chinese. Combining extensive personal experience with accounts by early expatriates, the book is entertaining and informative, an unconventional and frank account of Peking history that will become well known among serious travelers to China's capital.' - Professor Joseph Bosco, Department of Anthropology, The Chinese University of Hong Kong
The Search for a Vanishing Beijing weaves the genres of travel essays and travel guides into a comprehensive narrative about the cultural mosaic of the capital of China. The author leads the reader through palaces, temples, back streets and markets while bringing back to living memory forgotten or overlooked Peking customs, stories and beliefs.
The text touches on everything under the sun as the reader walks from Tian An Men Square through the surrounding neighborhoods and further to sights in rustic settings. The narrative relates stories about imperial customs, street food, temple festivals, historic trees, Red Guard struggle sessions, Tibetan and Mongolian customs, hiking trails, political clashes, residences of famous Chinese and foreigners, ghosts, prisons, classical Chinese poetry, ice-skating, espionage, burial customs, old and new embassy districts, courtesans, restaurants and (even) Chinese liquor. Interspersed throughout the book are stories told by such diverse sources as Marco Polo and Bernard Shaw as well as 20th century Sinophiles like Juliet Bredon, George Kates and David Kidd. Commentary from Ming and Qing era travel guides are brought out for a Chinese perspective on celebrated locations in the city. (Hong Kong University Press 2004)
About the Speaker
M. A. Aldrich's interest in Chinese culture began more than 30 years ago. He is a graduate of the Foreign Service School of Georgetown University where he studied under Jesuit teachers who lived in China before the revolution of 1949. He later took a master's degree in History at SUNY at Stony Brook. After studying law at Columbia University, he has been an international commercial attorney in Greater China for 15 years. He works in the Beijing office of a London-based international law firm.
About the Moderator
Jason Wordie is a local historian and writer. He is a graduate of the University of Hong Kong, and worked for several years as a civilian teacher with the Brigade of Gurkhas, based at Sek Kong in the New Territories.