Sep 19 2017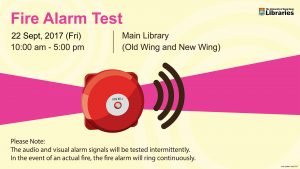 Please be informed that the technicians will carry out inspections & testing of the fire service installations of your building on the time & date shown below. The fire alarm bells will sound and the visual fire alarms will flash in short blasts, no evacuation is required. In the unlikely event of a genuine fire, the alarm will sound continuously and in such circumstances standard evacuation procedure should be followed.
If you have any queries concerning this inspection, please feel free to contact me at 2859 2400 or email safety@hku.hk.
Thank you for your attention.
K.P. Li (Mr)
Fire Safety Manager
Comments Off on Fire Services Inspection: 22 Sept