Aug 15 2017
Dear colleagues and students,
We are pleased to announce a price reduction on the printing services being supported by Information Technology Services (ITS) and University Libraries with effect from 1 September 2017.  The percentage of reduction is up to 50%, with a larger reduction in duplex printing to encourage you to use less paper.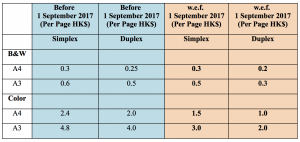 For any enquiries, please contact ITS at ithelp@hku.hk or 3917-0123 or the University Libraries at libis@hku.hk or 3917​-2203.
Information Technology Services and University Libraries
Comments Off on Price Reduction on Printing Services Supported by ITS and University Libraries