May 07 2021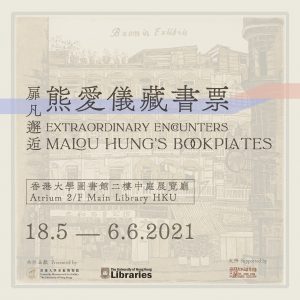 Extraordinary Encounters: Malou Hung's Bookplates exhibition
The University Museum and Art Gallery (UMAG) and the Libraries of The University of Hong Kong will present Extraordinary Encounters: Malou Hung's Bookplates from May 18 to June 6, 2021. Curated by Sarah Ng, the exhibition employs a cross-cultural perspective for visualising Chinese material culture through the bookplates (ex libris) of celebrated Hong Kong artist Malou Oi Yee Hung.
A bookplate is generally a small print placed on the inside front cover or free endpaper of a book to show ownership. In an era in which the popularity of print media continues to decline, the practice of including bookplates is fast becoming a dying art. Extraordinary Encounters refers to the surprising ways in which we still encounter bookplates during the act of reading. Alternatively, it stands for the remarkable encounters possible when viewing Hung's images, which go well beyond the general expectations of standard bookplates. These encounters have the ability to transport audiences across time and space, allowing for the appreciation of ancient artworks and diverse Hong Kong neighbourhoods as viewed from the artist's extraordinary perspective.
Bookplates have been appreciated for centuries as technically refined and beautiful artworks, as well as critical materials for learning about the history of art, printing, books and design. Many of the works on display here pay homage to everyday life in Hong Kong's bygone eras—informed by elements of traditional Chinese culture—which forms an invaluable resource for the study of Chinese art and Hong Kong heritage.
The exhibition also highlights historical objects from UMAG's collection, and items displayed online as part of a complementary virtual exhibition. The exhibition's five sections range from daily life in bygone eras to the material culture and craftsmanship of Imperial China: Rituals and Daily Life, Collected, Superfluous Things, Revisiting and Craftsmanship. The bookplates are juxtaposed with items from UMAG's permanent collection and printmaking tools.
Details of the Exhibition (Main Library)
Period: May 18, 2021 (Tuesday) to June 6, 2021 (Sunday)
Opening Hours:
8:30am–11:00pm (Monday to Friday)
8:30am–7:00pm (Saturday)
10:00am–7:00pm (Sunday)
Please refer to the HKU Libraries website for public holidays' opening hours: https://lib.hku.hk/general/hours/index.html
Venue: Atrium, 2/F, Main Library, HKU, Pokfulam
Tel/Email: (852) 3917 2203 (General Enquiry) / libis@hku.hk
Admission: Free
Website: https://lib.hku.hk
Other enquiries (UMAG)
Tel: (852) 2241 5500
Email: museum@hku.hk
Admission: Free
Website: https://www.umag.hku.hk/en/
《扉凡邂逅:熊愛儀藏書票》展覽
香港大學美術博物館和港大圖書館將於2021年5月18日至6月6日呈獻《扉凡邂逅:熊愛儀藏書票》,由吳秀華策劃展覽。透過著名藏書票藝術家熊愛儀的作品,從跨文化的角度,展示中國傳統文化和藝術如何表現源自西方的藏書票(ex libris)。藏書票通常是一張特製的小形版畫,貼在書的扉頁,作為書籍擁有人的憑證,猶如藏書者的簽名一樣。在印刷和實體書式微的時代,藏書票自然也愈趨罕見,甚至連讀書人亦未必見過實體藏書票。
展覽以「扉凡邂逅」命名,意指翻閱書籍時,意外發現其扉頁上貼有精緻小巧的藏書票,是非一般的小確幸。觀眾能一次過飽覽熊愛儀創作的多張精選藏書票,了解藏書票既是實用的,也有非凡的藝術價值。熊愛儀半生與藏書票藝術邂逅、結緣,透過她的藏書票和其非凡的視角,帶領觀眾穿越時空與地域,欣賞傳統中國藝術,以及重遊書票上呈現的香港今昔。
是次展出的大部分作品均從日常生活獲取靈感,主要以中國傳統的元素和題材,表現昔日的時地人物。過去幾百年來,藏書票除了因為其藝術價值、巧奪天工的創作技法而獲欣賞和收藏外,也是認識藝術史、印刷史、書籍史、設計史和東西文化交流演變的參考。這次於圖書館的實體展覽和港大美術博物館的網上虛擬展覽,除了藏書票外,相信能有助觀眾了解中國藝術及文化遺產,包括港大美術博物館的藏品。展覽分五個主題:活色生香、情牽方寸、雅俗共賞、故地重遊和巧奪天工,並與港大美術博物館藏品及版畫製作工具並列展出。
Comments Off on [EXHIBITION 展覽] Extraordinary Encounters: Malou Hung's Bookplates exhibition 扉凡邂逅:熊愛儀藏書票