Oct 08 2020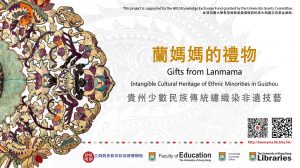 China is known for its rich history and culture. The ethnic minority people in Guizhou Province have a unique and diverse cultural heritage which is, unfortunately, disappearing due to natural and man-made causes. Digitisation provides a solution for preserving and promoting cultural heritage. Taking advantage of expertise from Dr Hu Xiao, Associate Professor at the Faculty of Education, Dr Esther Woo, Deputy University Librarian of HKU Libraries and Dr Nicol Pan, former Associate Director of Common Core Office, this Knowledge Exchange project digitises unique cultural heritages of ethnic minority people in Guizhou and make them accessible online to international audiences. Through building a digital museum, this project helps raise awareness and appreciation towards Chinese cultural heritage.
The digital museum is collaboratively built by the Faculty of Education at HKU, HKU Libraries and Guizhou Lanmama Museum of Intangible Cultural Heritage of Ethnic Minorities. This project is supported by the HKU Knowledge Exchange Fund granted by the University Grants Committee.
You are cordially invited to visit this digital museum at https://lanmama.lib.hku.hk/.
Please also share your experience of visiting the digital museum with us by completing an online questionnaire (https://forms.gle/EuFQtdZ4j93Yiky26). Your valuable feedback can help us measure the effectiveness of this digital museum in promoting and enhancing visitors' understanding of cultural heritage, and improve the organisation of similar digital museums in the future.
Faculty of Education, HKU
Comments Off on Gifts from Lanmama – a digital museum