Mar 08 2017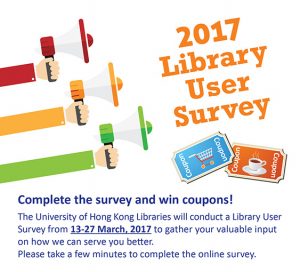 2017 Library User Survey
The University of Hong Kong Libraries will conduct a User Survey from 12 noon, 13 March to 27 March, 2017 to gather your valuable input on how we can serve you better.
Please take a few minutes to complete the online survey at http://lib.hku.hk/survey/2017
Survey responses will be kept confidential and cannot be linked to individual names or email addresses.
If you would like to win the following prizes sponsored by Gale, Cengage and Taylor & Francis Group, please key in your email address at the end of the questionnaire:
<First 10 survey respondents>
$100 Supermarket coupons x 10
<Lucky draw prizes>
First prize: $500 Supermarket coupons x 1
Second prize: $300 Supermarket coupons x 1
Third prize: $200 Supermarket coupons x 1
Fourth prizes: $25 Coffee shop coupon x 40
For any questions about the survey, please do not hesitate to contact us at usersurvey@lib.hku.hk.  Looking forward to your opinions and suggestions.
Peter Sidorko
University Librarian
The University of Hong Kong Libraries
Comments Off on 2017 Library User Survey|