May 05 2021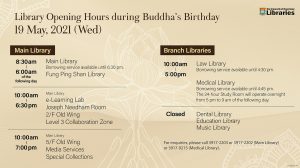 Message from the University Libraries
Library Opening Hours during Buddha's Birthday
19 May 2021 (Buddha's Birthday)
Main Library and Fung Ping Shan Library will be open from 8:30 am to 6 am of the following day.
e-Learning Lab & Joseph Needham Room (G/F), Old Wing (2/F), and Level 3 Collaboration Zone, in the Main Library, will be open from 10 am to 6:30 pm.
The 5/F Old Wing part of the Fung Ping Shan Library, the Media Services (including Library Innovation Centre), and the Special Collections will be open from 10 am to 7 pm.
Law Library will be open from 10 am to 5 pm.
Yu Chun Keung Medical Library will be open from 10 am to 5 pm.  The 24-hour Study Room will operate overnight from 5 pm to 9 am of the following day.
Dental Library, Education Library, and Music Library will be closed.
3 to 29 May 2021 – extended opening hours
The Main Library (3-24 May) and the 24-hour Study Room in the Medical Library (3-29 May) will extend the opening hours for the Revision Week & Assessment Period.  Please refer to the library webpage for details.
During the extended opening hours, contract security guards will be stationed in these two libraries to conduct temperature check and provide basic security services when the service counters are closed, users can check out/in books using the self-check stations (G/F, 2/F and 4/F, Main Library). While there is no counter service, all public computers, printers and copiers will be available but no refill of printing paper will be provided. 
For enquiry, please call 3917-2203 / 3917-2202 (Main Library Information Services/Lending Services) or 3917-9215 (Medical Library).
Comments Off on Library Opening Hours during Buddha's Birthday 19 May 2021