GLAM Lab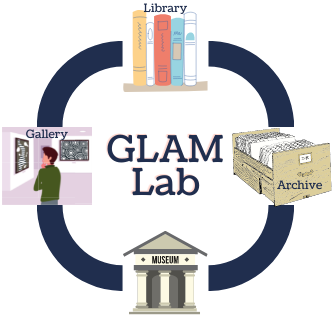 The Gallery, Library, Archive and Museum (GLAM) Lab is a new approach of using new, existing and emerging digital technologies to make cultural heritage collections available in innovative and engaging ways. The GLAM Lab in HKU focuses its support to virtual teaching and learning (VTL) and promotes creative use of collections from the University Museum and Art Gallery, University Libraries, and University Archives. Interested participants can approach the GLAM Lab team for more information on how to make use of the collections, facilities and services we offer. The Lab will hopefully be developed into a sandbox for interdisciplinary and collaborative VTL projects for students and teachers from different disciplines. New ideas derived from this approach will also inform the development of virtual teaching and learning of the University.  
Values
Collaborate | Experiment | Create | Be Open | Inherit | Engage | Transform
At the GLAM Lab, users can experiment and engage in ideas for VTL. They can also collaborate freely with each other to synthesize their ideas. Materials at the GLAM Lab are accessible openly. Sharing sessions and exhibitions of projects will provide opportunities to nurture creativity, problem solving and presentation skills. The GLAM Lab preserves cultural heritage for knowledge exchange and increases visibility of learning objects and projects created by the HKU community. Interdisciplinary and multimedia resources in the University Museum and Art Gallery, the Libraries and the Archives made available through the GLAM Lab help to transform the educational experience of VTL.
User Communities
HKU current staff and students are welcome to collaborate with the GLAM Lab team or participate in our events/activities to develope initiatives that support VTL.
This initiative is supported by the UGC Special Grant for Strategic Development of Virtual Teaching and Learning.