The University of Hong Kong Libraries in coordination with the Vatican Apostolic Library will host the seminar What Lies Behind Palimpsests by András Németh, curator of Greek manuscripts at the Vatican Apostolic Library on
Date:  6 December 2016 (Tuesday)
Time:  11:00 AM to 12:30 PM
Venue:  eLab, Ground Floor, Main Library, HKU.
Revisit the Talk:
Video: https://youtu.be/4DoMioh7xDY
Photos: https://www.facebook.com/hkulevents/
About the Seminar:
Palimpsests are recycled parchment leaves that very often hold erased ancient texts, unique and hardly comprehensible messengers of a lost past.  András will give an overview on the archaeology of palimpsests, methods applied to recover such erased texts via two famous Vatican codices. The only copy of Cicero's Republic (Vat. lat. 5757), a Platonic dialogue in Latin, survives as an erased text (4th–5th century) underneath Saint Augustine's commentary on the Psalms (7th century). The other palimpsest is a collection of several Greek historians (10th century, Vat. gr. 73).  The latter manuscript has been challenging textual scholars and photographers alike for almost two hundred years to recover a wide range of its unique texts on Roman and Late Antique history and to overcome the difficulties created by earlier exploration methods.
About the Speaker: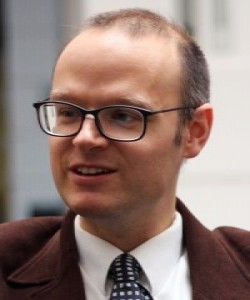 András Németh is one of the two curators of Greek manuscripts at the Vatican Apostolic Library. Before this post, he was a research scholar at the Max Planck Institute for the History of Science in Berlin after working as a research librarian at the National Széchényi Library, Budapest. His research interests seek creative approaches to manuscripts in general but he focuses on the cultural history of tenth-century Byzantium and the reception of Greek manuscripts in Renaissance libraries. He is currently revising his PhD thesis, gained at Central European University (Budapest), on the Byzantine Excerpta historica for Cambridge University Press, and a monograph on the Greek manuscripts of the Corvinian Library of King Matthias Corvinus. He was the chief organiser of the first Winter School in Greek Palaeography at the American Academy in Rome. http://vaticanlibrary.academia.edu/AndrasNemeth
For enquiries, please contact Marina Yeung (Tel: 2859 8903 / email: friends@lib.hku.hk).
Vat. lat. 5757, p. 183 © > Biblioteca Apostolica Vaticana