Featured Resources
Center for Research Libraries (CRL)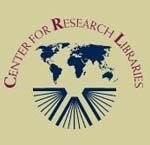 The Center for Research Libraries is a consortium of nearly 200 North American academic and research libraries that collectively acquires, preserves and provides access to primary resources for research and teaching in the humanities, sciences, and social sciences. Its collections consist of more than four million publications including foreign & US ethnic newspapers, foreign journals and dissertations, area studies program in Africa, Latin America, Middle East, Europe, Asia, Southeast Asia, and more. The Center materials can be borrowed via HKUL interlibrary loan. 
Encyclopedia of genetics, genomics, proteomics, and bioinformatics
Genomics and its related fields of proteomics and bioinformatics are among the most exciting and rapidly expanding disciplines at the start of the twenty-first century. With more and more whole genome sequences and large-scale datasets becoming available, the task is to analyse this information and use it to deliver greater understanding of how organisms function. This will lead to improvements in medicine, public health and agriculture.
This new reference covers all three fields in depth, with a further volume focusing on important topics in Genetics. It brings together the latest concepts in these vibrant areas and ensures a truly multidisciplinary approach. With articles for both students and more experienced scientists, this is a key reference source for everyone.
<Modified from Selected Notable Acquisitions, Focus, v.5, no.3, Mar 2006>
Encyclopedia of statistical sciences
Countless professionals and students who use statistics in their work rely on the multivolume Encyclopedia of Statistical Sciences as a superior and unique source of information on statistical theory, methods, and applications. This new edition is designed to bring the encyclopedia in line with the latest topics and advances made in statistical science over the past decade--in areas such as computer-intensive statistical methodology, genetics, medicine, the environment, and other applications.
<Modified from Selected Notable Acquisitions, Focus, v.5, no.3, Mar 2006>
Evans Digital : Digital Edition: Early American Imprints, Series I. Evans (1639-1800)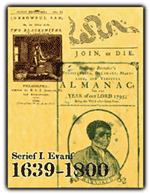 The Digital Edition of Early American Imprints, Series I. Evans (1639-1800), is the definitive resource of information about 17th- and 18th-century America. Based on the renowned "American Bibliography" by Charles Evans and enhanced by Roger Bristol's "Supplement to Evans' American Bibliography", the collection includes every existent book, pamphlet, and broadside published in America from 1639-1800. It provides information about every aspect of life at the time, from agriculture and auctions through foreign affairs, diplomacy, literature, music, and witchcraft, etc. The digital version of Evans, published by Readex in cooperation with the American Antiquarian Society, comprises more than 36,000 items and over 2.3 million images. In addition to searching and browsing in Evans, users may also access the titles in Evans directly through links in Dragon, the library's online catalog. 
Journal of Three Voyages along the Coast of China in 1831, 1832, & 1833, with notices of Siam, Corea, and the Loo-Choo Islands.
Gutzlaff, Karl Friedrich August, 1803-1851. London: Frederick Westley and A. H. Davis, 1834. 347p. : illus.; map. Call Number : Spec Coll Rare Book U 915.1076 G9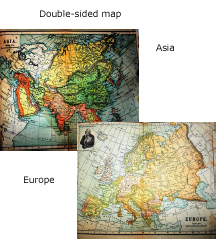 Rev. Gutzlaff (1803-1851), born in Pomerania, Prussia (now Germany), was the first Lutheran Missionary to China 1831- 1851. He was appointed the Chinese Secretary to the Colonial Government of Hong Kong in 1843, yet his missionary work was never discontinued - he established the "The Chinese Union" in 1844 to carry out the preaching work until he died in 1851 in Hong Kong. With his devotion to the missionary work, Rev. Gutzlaff was hounoured the name "The Apostle of China".
Rev. Gutzlaff had some medical training and was connected to Netherlands Missionary Society. Leaving the Society in 1828, Guztlaff went to Singapore, Siam and Bangkok and married Maria Newell in 1829. After his wife died in February 1831, Gutzlaff left Siam on a Chinese junk that traded along the coast of China as far as Tientsin. From February to September 1832, he made a second voyage as interpreter and surgeon on the East Indian Company's ship 'Lord Amherst', which explored trading possibilities at ports north from Canton to Shanghai and then visited Corea and Okinawa.
His third journey, from October 1832 to April 1833 was on the Jardine Matheson's ship 'Slyph', an opium trading vessel. Gutzlaff, though hesitated, accompanied the British as a translator, seeing this third journey would be a good opportunity to preach the gospel and distribute religious pamphlets. You will find great details about China and China Trade in the days leading up to the first Opium War in Gutzlaff's journal. Attached to the book are two maps: (1) Map of the coast of Siam, China and Corea to illustrate Gutzlaff's voyages; (2) Double-sided map, one of Asia and one of Europe.
The 2nd and 3rd editions of this title are both kept in the Rare Book Room of the Special Collections.
<Modified from Spotlight on Treasures, Focus>
《佩文齋廣群芳譜》一百卷36冊
《佩文齋廣群芳譜》,簡稱《廣群芳譜》,清劉灝[1703年進士] 編,清聖祖康熙47年[1708]內府版,館存為覆刻本。「佩文齋」為清聖祖之宮殿名(另有淵鑒齋、懋勤殿 ),名冠書之上,示奉康熙之命編校。此書乃是康熙44年南巡江浙時徵納南方賢才入仕,於十月十二日於內廷起居注館宣旨纂輯。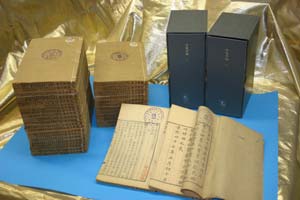 Pei wen zhai guang qun fang pu is a famous and powerful reference tool for gardening and farming published by Emperor Kangxi of China in 1708 A.D. This extensive work (at 100 juan in 36 volumes within 4 cases) on double leaves, oriental style, covers 1,580 plants as well as growing methods, with related literary texts. It was written by retired civil officer Wang Xiang-jin over ten years and first published in the Ming dynasty around 1621 A.D. Later, during the Qing dynasty, the Emperor Kangxi ordered it to be republished, and it was revised and enlarged by a number of imperial scholars, becoming in the process a state-of-the-art book in China.
<Modified from Spotlight on Treasures, Focus>
中華佛教人物傳記文獻全書(精裝60冊)
本書是我國第一部涵蓋時間最長、收入佛教人物最多、影印製作規模最大的人物傳 記集。這套"全書"底本來自於中國國家圖書館,收錄文獻始於宋代,止於民國。這次影印的底本既有稿本、抄本,又有雕版本、鉛排本;既有碑拓,又有造像。其 中很多是國家圖書館藏的孤本、善本,有三分之二內容是首次影印出版。
<Modified from Selected Notable Acquisitions, Focus, v.5, no.3, Mar 2006>
補註《洗寃錄集證》六卷.索書號:〔特〕RA1063.4.S933 Z43 1844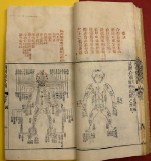 Chong kan bu zhu Xi Yuan Lu Ji Zheng : Revised and enlarge edition of "The Washing away of wrongs" - The forensic medicine in thirteenth-century China, the first Medical Jurisprudence Book in the World. On double leaves, oriental style, 6 juans, 5 volumes within one case, was a remarkable four colours block printed version in Qing dynasty that used by every coroners and each civil servant working related to autopsy.
Originally compiled by the famous officer Sung Tzu of Song Dynasty in 1247A.D, it has been recognized by historians of medicine as the oldest extant book on forensic or legal medicine in any civilization. This greatest cultural landmark was not only being studied continuously by many researchers in China, it's practical contents also adopted by various countries and had been translated into different languages since the 18th century.
五冊一函.宋慈原編,王又槐(fl 1793-1796)增輯;李觀瀾補輯;孫光烈參閱;阮其新補註;王又梧校訂;張錫蕃重訂加丹;省城(廣東)劉開域重校,清道光24-27年 〔1844-1847〕刊本.內有六序一跋,全書據宋代名官《洗寃集錄》為骨幹,附以增補而重輯為四卷三冊.後附兩冊作卷五,六則加入:重刊洗寃錄彙纂補 輯,檢骨格圓,寶鑑編,急救方,石香秘錄,洗寃錄解等八種同類的名篇,為集醫學及法醫學的精華之鉅著.<
<Modified from Spotlight on Treasures, Focus>