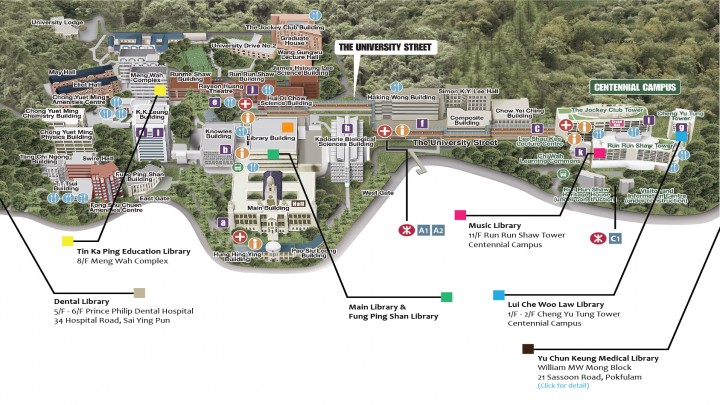 The Main Library Entrance is located at the west side of the New Wing on the 2nd floor connecting the Main Library to the University Street. The existing main entrance on the ground floor is an entrance and exit point for current students and HKU staff. Visitors should enter the Main Library from the 2nd Floor Entrance.
Lending Services (2/F counter) - 3917 2202
By Bus
https://www.estates.hku.hk/campus-information/campus-map-transport/trans...
By MTR:
Find your way to the nearest MTR station. A full map of the Hong Kong MTR system can be accessed here. At any MTR station, you can purchase a reusable Octopus Card (deposit cost: HK$50), available at the station's Customer Service Centre, and then use this card to enter the Train platform area. On the MTR system map, find the Island Line and take the MTR to the HKU station (香港大學).
For the Main Library, Fung Ping Shan Library or Tin Ka Ping Education Library take exit A1/A2 to the FB level.
For the Lui Che Woo Law Library or the Music Library take exit C1 to Pokfulam Road and take the escalator to the footbridge leading to the Centennial campus.
Getting from the HKU station to the Campus
By Taxi
Instruction to Taxi Driver
的士路線指引
Address
地址
The University of Hong Kong Libraries
Pokfulam Road
HONG KONG
香港
薄扶林道
香港大學圖書館
Instruction to
Taxi driver
的士路綫指引

Hong Kong side => Pokfulam Road => HKU Entrance (West Gate) => G/F Knowles Building => HKU Library

港島區 => 薄扶林道 => 經西閘=> 在閘口向保安人員請教方向 => 紐魯詩樓停車場頂層對面 => 圖書館

Telephone
電話

(852) 3917 2202

Map
地圖
http://www.maps.hku.hk/
Main Library - The University of Hong Kong, Pokfulam Road
Law Library - 1F & 2/F Cheng Yu Tung Tower, Centennial Campus
Music Library - 11/F Run Run Shaw Tower, Centennial Campus
Fung Ping Shan Library - 5/F, 6F part of 4/F Main Library
Tin Ka Ping Education Library - 8/F Meng Wah Complex
Yu Chun Keung Medical Library - LG1 New Medical Complex, Sassoon Road, Pokfulam
Dental Library - 5/F & 6F Prince Philip Dental Hospital, Hospital Road, Sai Ying Pun